text.skipToContent
text.skipToNavigation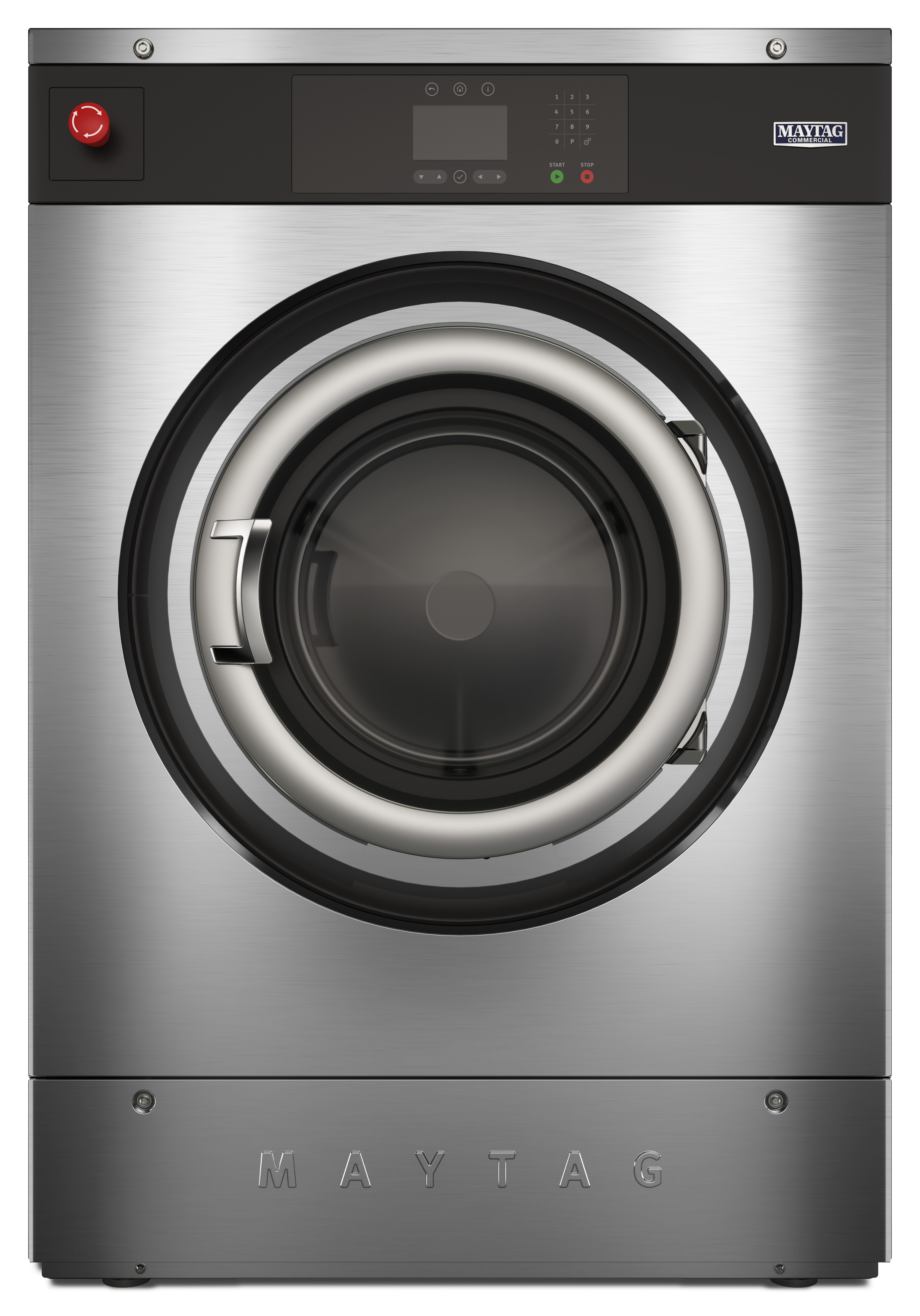 Product Description
Get the flexibility you need with the configure-to-order, soft-mount Maytag® Commercial Laundry Multi-Load Washer. It can be configured in hundreds of different ways, allowing you to choose among different water heating, electrical connection, contols, drain, water inlet, and construction options and is available in 20, 30, 40, 55, and 65lb sizes. This washer simplifies laundry room operations with a full-color LCD screen and Over-the-Air (OTA) update capabilities, while offering the flexibility to customize wash formulas to suit every On Premise laundry need. The robust, industrial-strength subsystem design means it's built to handle tough loads while delivering a thorough clean every time. The drive- and wash-system components, and a strong suspension system are standard on every machine, so they can handle the rigors of On Premise laundry facilities, capabable of extraction forces reaching 400G's. Because of how reliable this machine is, we're backing it with a 3-year limited OPL warranty—all parts covered.

*Visit maytagcommerciallaundry.com for warranty details
Full Color 4.5' LCD Screen
User-tested for navigation and comprehension, the intuitively designed LCD screen provides ease-of-use to operators. Managers can choose which cycle selections to display on each machine to optimize laundry workflow with configurations that reinforce timeliness and efficiency. Users are able to choose from multiple language options to ensure they can conveniently navigate each machine.
Consistent Spin-Out Performance (up to 200 – 400 G-Force)
OPL facilities need to perform at their peak, so we've engineered our multi-load washers to deliver G-forces of up to 200 for rigid-mounts and up to 400 for soft-mounts. This consistent spin-out performance helps achieve optimal water extraction for ideal dry times.
Flexible, Configure-to-Order Combinations
Thanks to an engineering and manufacturing model, Multi-Load Washers can be transformed to a broad array of needs, enabling a total of 2,752 custom combinations. Constructed in both soft- and rigid-mounts, our rugged machines are built to your specifications — starting with capacities from 20- to 65-lbs and including vended or OPL controls, water heating options, voltage/phase configurations, additional inlet option, optional chem dispense, and payment methods. It's time to get exactly what your facility needs.
5/3-Year Limited Parts Warranty.* *See maytagcommerciallaundry.com for warranty details.
This durable, on-premises multi-load washer is backed for 3-years on all parts and 5-years for the outer shell, drum and shaft assembly, inner welded frame, and bearings and seals. *See maytagcommerciallaundry.com for warranty details. Chemical damage is excluded from all warranty coverage.
Powerful Drive System and Wash Unit
Designed with a Variable Frequency Drive System and commercial-grade motor, this machine is built to give OPL owners the power they need to run efficiently and consistently. The drive system and wash unit comes complete with a 304 stainless-steel drum, commercial-grade NSK bearings, hardened-steel shaft, cast-iron cross piece and hub, and cast-aluminum pulley — all designed to help increase machine longevity and give owners the durability their facility needs to operate daily.
Multilingual Language Options
Users are able to choose from multiple language options to ensure they can conveniently navigate each machine.
Intelligent Controls and Customizable Cycle Settings
OPL owners can optimize laundry workflow with system configurations that reinforce timeliness and efficiency. With 99 cycle combinations, each with up to 99 phases, operators have the flexibility to customize wash cycles — from formulas to spin time — all to fit specific fabric and occupational needs. Determine which detergents, solutions, and water temperatures are used during every cycle, and then program them to release on-time and in correct amounts with our split-lid, four-compartment dispenser or external chemical injection.
Secure Door Lock
Tested to IEC standards to withstand commercial use, the secure lock has a consistent locking force and a sturdy design you can count on.
Designed for Safety
OPL operators have quick access to the machine's main power switch located on the back of the washer. Managers can program a machine's activity up to 99 minutes from the start of each cycle, helping to prevent and control unmonitored machine usage. Every washer also comes equipped with a Pause/Cancel button that can immediately cancel the cycle or temporarily pause 5 minutes before automatically shutting down and a secure door lock with consistent locking force.
10 Chemical Injection Ports
With 10 ports and 8 electronic outputs, OPL operators have the ability to customize up to 8 chemical solutions based on specific washing and dispensing needs.
Two USB ports
Front and back USB Ports allow for easy import and export of machine settings, software updates and audit data. Paired with our online configurator tool, this makes off-machine cycle setup a breeze
Electrical Connection Options (Volts/Hz/Phase)
| | |
| --- | --- |
| W = 120/60/1 | Yes |
| T = 208-240/60/1 | Yes |
| X = 220-240/50/1 | Yes |
Certifications
| | |
| --- | --- |
| Prop 65 | CALIFORNIA RESIDENTS ONLY - WARNING: Cancer and Reproductive Harm - www.P65Warnings.ca.gov |
Construction
| | |
| --- | --- |
| Cylinder | Stainless Steel |
| Top | Stainless Steel |
| Front | Stainless Steel |
| Sides | Painted Steel |
| Stainless Steel Sides option | Yes |
Configuration and Overview
Industrial Segment

Multi-Housing Laundry

,

On-Premises Laundry



Dimensions
| | |
| --- | --- |
| Depth- in. (mm) | 35.5 (901) |
| Width- in. (mm) | 38.2 (970) |
| Height- in. (mm) | 55.5 (1,410) |
| Door Opening- in. (mm) | 18.1 (459) |
Water Heating Options
| | |
| --- | --- |
| Hot/Cold water connections only | Yes |
Crated Dimensions
| | |
| --- | --- |
| Crated Depth- in. (mm) | 39.5 (1,003) |
| Crated Width- in. (mm) | 40.5 (1,029) |
| Crated Height- in. (mm) | 61.4 (1,560) |
Capacity
| | |
| --- | --- |
| Cylinder Volume- cu. ft. (liters) | 6.0 (171) |
| Cylinder diameter- in. (mm) | 29.5 (750) |
| Cylinder depth- in (mm) | 16.2 (411) |
| Dry load capacity- lb (kg) depth | 40 (18) |
Control/User Interface
| | |
| --- | --- |
| Control Type | On Premise |
| Display type | LCD |
| Vended Controller | No |
| OPL Controller | Yes |
| Card reader ready | No |
| USB PROGRAMMABILITY | Yes |
Water, Chemical Dispensing, Drains
| | |
| --- | --- |
| Number of water inlets | 2 |
| Optional third water inlet | Yes |
| Inlet sizes- in/mm | 3/4 (19) |
| Operating Pressure Psi (Bar) | 20-120 (1-8) |
| Number of dispenser compartments | 4 |
| External chemical connections, number | 8 |
| Dump valve drain, Size- in (mm) | 3 in, 7.62 cm |